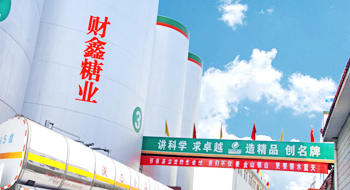 DANCHENG CAIXIN SUGAR INDUSTRY CO.LTD., as key enterprise of CAIXIN GROUP, is located at main corn production area of China. We have more than 1200 staffs ( including 160 technicians and 76 professionals) and more than 40 years' experience in sugar industry. With its 13 million US Dollars registered capital and 200 million US Dollars actual assets, our company is now the biggest comprehensive enterprise covering manufacturing, researching and marketing of deep-processing products on agricultural raw material in our province, honored with "High-Tech Enterprise", "Leading Enterprise of Agricultural Industrialization Development", "Top 20 Enterprise of China Starch Sugar Industry", " Excellent Enterprise of China Food Industry", etc.
DANCHENG CAIXIN SUGAR INDUSTRY CO.LTDDANCHENG CAIXIN SUGAR INDUSTRY CO.LTD
Annual processing ability of our company is more than 300 thousand tons corn with more than 360 thousand tons starch sugar products and 90 thousand tons feed. We are now processing more than 20 kinds of products including: corn starch; maltose syrup; glucose syrup;dextrose monohydrate; dextrose anhydrous; isomaltooligosaccharide (IMO); maltodextrin; sorbitol solution; maltitol syrup; xanthan gum; gellan gum; non-dairy creamer; corn gluten feed and peptides powder.Our products enjoy very good selling in more than 60countries such as Spain, Germany, Brasil, Argentina, U.S.A., Pakistan, South Korea, Japan, Philippines, Malaysia, Vietnam, and Russia.
DANCHENG CAIXIN SUGAR INDUSTRY CO.LTDDANCHENG CAIXIN SUGAR INDUSTRY CO.LTD
There are Administration Department, R&D Center, QC Department, Production Department, Equipment Department, Sales Department, International Trading Company, Warehouse and Financial Department in our management system. Since established, we have passed ISO9001, ISO14001, HACCP, QS, KOSHER, HALAL, IP (NON-GMO), and CNAS inspection and we have also got the sanitary certificate for exporting processing enterprise from CIQ.
DANCHENG CAIXIN SUGAR INDUSTRY CO.LTDDANCHENG CAIXIN SUGAR INDUSTRY CO.LTD
Facilities and R&D ability of our factory are among the first class in China. For research and development, we are working closely and constantly with China Science Institute and other famous universities or researching institutes and have established advanced laboratory, which has been approved by CNAS. We also founded "National R&D Center for Corn Processing", "Functional Starch Sugar Research Center" and "Postdoctoral Programme". For technology innovation, the application of continuous sugar ion exchange process makes it be efficiently controllable for conductivity and chromaticity; the application of "double enzyme hydrolysis method" makes the DE value can be above 99%, with which the quality of sugar is improved with high level. For lab equipment, we spent 700thousand US Dollars to introduce high performance liquid chromatograph(HPLC) and heavy metal detecting equipment to strengthen our testing and experimental ability. Our packing house is designed with GMP standard to ensure the quality and safety of the products.
DANCHENG CAIXIN SUGAR INDUSTRY CO.LTDDANCHENG CAIXIN SUGAR INDUSTRY CO.LTD
Based on location advantage, our company regards agricultural industrialization as the leading force, adheres to the purpose of scientific and technological innovation, and dedicates to create a circular economy development pattern with comprehensive utilization of natural resources. We are pursuing the concept of healthiness and environmental protection and continuously striving for excellence.We would continue to improve our R&D ability for new and advanced technology in sugar industry with the support of domestic and international market, contributing to build a prosperous and harmonious society.
DANCHENG CAIXIN SUGAR INDUSTRY CO.LTDDANCHENG CAIXIN SUGAR INDUSTRY CO.LTD
CAIXIN Sugar is dedicated to create a sweet life and we hope to sprinkle sweetness to the whole world.We warmly welcome you to visit us and start a mutual benefit business relationship hands in hands!